Remote Control Replacement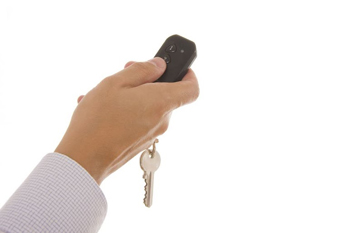 It is great to have a garage door opener that you run with the push of a button. When the clicker, fails, however, you will be in for one major inconvenience. The good news is that we can help you out in little time. Count on us to fix the malfunctioning device for you. If it has failed completely, you will receive a brand new one that is compatible with your electric operator. Programming is part of the service too. We'll adjust the clicker to work your opener smoothly and reliably. Our company, "Garage Door Repair Hayward", has always provided full servicing for maximum customer satisfaction. If you have lost your remote, turn to us right away to get a replacement device quickly. With reprogramming, we'll ensure that no one will be able to use the missing clicker to get in.
Genie Intellicode Remote
Virtually all opener manufacturers now offer remotes with rolling code technology. However, Genie was among the first to introduce it. The trademark Intellicode has now become synonymous with the technology itself. It gives you higher security by changing the access code automatically after each use of the garage door remote clicker. The brand offers one- and three-button remotes with Auto Seek dual frequency technology, which reduces the risk of signal interference to the possible minimum. Since there is a wide range of options, you can count on us to help you make the best choice when you use our opener installation service. We are also available to fix and replace these devices and wireless keypads of the brand.